Error 1316 - Error Installing And Uninstall QuickBooks Web Connector
Issue Description:
When trying to uninstall or install QuickBooks Web Connector you receive an error
The Windows Event Viewer shows a 11706 error code.
Requirements to Complete this Process:
Admin access to the server.
Errors you might be receiving: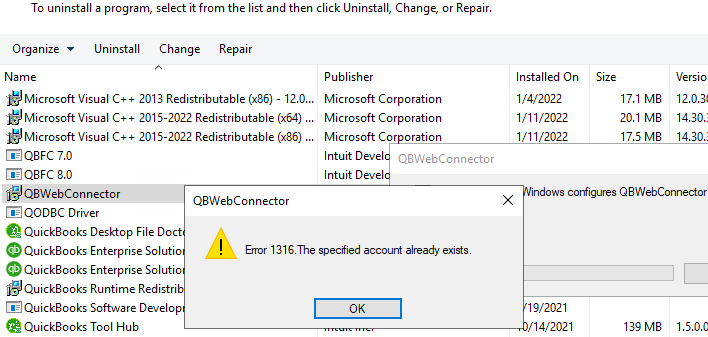 Steps to Fix:
Uninstall QuickBooks WebConnector from Control Panel> Apps and Features to install a new one.

Guides to Uninstall and Install Web Connector:
If the issue(s) continue:
Download the Download troubleshooter tool from the website below and follow the prompt on which program to uninstall:
Fix problems that block programs from being installed or removed
Once completed, download and install the new version of the web connector.
Additional URLs or References (as needed):
https://answers.microsoft.com/en-us/windows/forum/all/error-installation-package-msi-installer-could-not/a3fa0289-e111-4903-a163-23045ce4a8c5

https://support.microsoft.com/en-us/topic/fix-problems-that-block-programs-from-being-installed-or-removed-cca7d1b6-65a9-3d98-426b-e9f927e1eb4d