Server Admins can utilize the server's Windows Task Manager to end running programs. Non-Server Admins can end their own applications, just not anyone else's.

1. Bring up the server's Task Manager using one of these three methods:
• Right-click on the server's taskbar and choose Task Manager
• Press CTRL + SHIFT + Esc to bring up the Task Manager
• Click on the server's Start Menu> Windows System> Task Manager

2. Click on the Users tab (may need to choose "More details" first)

3. From here you can highlight the user and click Sign out or right-click on the user and click Sign off. Server Admins can also log other users off of the server. To do this simply right-click their name and click Sign off.
4. If you just want to close a program you can expand the user by clicking on the arrow to the left of their name which will reveal all of the running programs. Then you can right-click on the process and click End task on it to close it.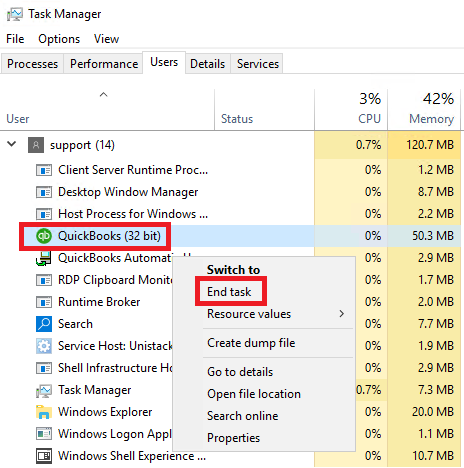 The above example illustrates how you can end the QuickBooks process for a user. You can either right-click on "QuickBooks (32-bit)" and choose "End task", or highlight "QuickBooks (32-bit)" and press the "End task" button in the lower-right corner.