If you are the Admin of your server, you can now install the updates for your applications as they are released, instead of needing to submit a ticket to support and waiting for them to be installed for you. For example, if you currently have Quicken 2019.0.1 and an update is released to install 2019.0.2, you can install it! This is a quick process, generally around ten minutes.
1. Log in to the server using your typical login credentials.

2. Be sure no one has the application you are attempting to update open (use the server's Task Manager to ensure all instances of that application are closed).

3. Right-click the application icon on the desktop, and select Run as Administrator from the menu.
*(QuickBooks is used as an example in the screenshots below. The same process applies for any applications that you need to update on your server.)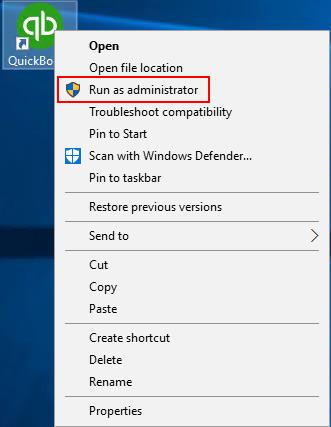 4. When prompted, enter the Admin credentials for your server.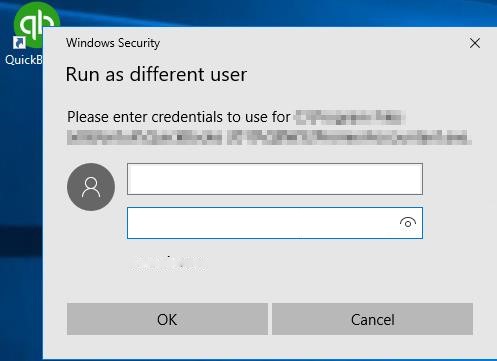 *Your admin credentials should have been provided to you by a member of the Summit Support team. If you are the admin user on the account and do not have your local Admin credentials, please submit a ticket at ticket.summithosting.com
5. Click OK to launch the application and choose to update your application when it populates on your screen.
*If you are not automatically prompted to update your application upon opening it, you may need to check for updates manually. This process varies for each application, so if you're not sure of the process to check for and download updates within your specific application, please contact the vendor of that application so they can advise on the correct steps to take. Summit Support will not be able to provide exact steps for the update process of your specific application outside of QuickBooks or Sage 50 applications. Steps for running QuickBooks updates can be found here, and steps for Sage 50 applications can be found here.

6. Allow the updates to download and install, following the prompts on your screen as they appear.

7. If the server requires a reboot after the update has been completed, go ahead and allow the reboot. Wait about 3-5 minutes to allow the server to boot back up, and then log back in.