Multi-user access error when opening QuickBooks files (error -6098,5)
Issue Description:
Users receive this message when opening QuickBooks files (see screenshot).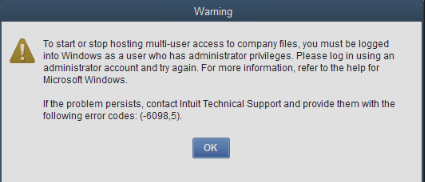 Requirements to Complete this Process:
Admin access to the server.
Steps and Screenshots:
Check if the QuickBooks DBManager service for QuickBooks is running. If not running, start the service.

You can check it by clicking Start then typing Services.msc and pressing Enter.
The DB Manager(s) will be listed as QuickBooksDB## where ## is associated with the version number.

If unable to start the DBManager service or if you receive an "Access Denied" error (screenshot below). Open the DBManager by right-clicking on it and selecting Properties then go to the Log On tab and change the logon to the Local System account


Start the DBManager service and open QuickBooks again.