Error 0x300006xc - Unable to connect via MRDP (Microsoft Rremote Desktop Protocol) app on a MAC
Issue Description:
Cannot launch the server and sometimes receives an error:
"The certificate couldn't be verified back to root certificate. Your connection may not be secure"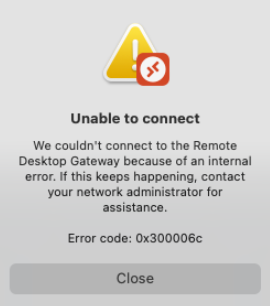 Requirements to Complete this Process:
Local MAC credentials.
Credentials to login to the server from the Microsoft Remote Desktop app.
Steps and Screenshots:
Check the dock and make sure the MRDP application is completely closed out.
If you see the icon from the dock, right-click then click Quit.

If it is not quitting, click on the MRDP application, click on the Apple icon, and click on Force Quit... and Force Quit Microsoft Remote Desktop.
Relaunch Microsoft Remote Desktop to log in to the server.
Additional URLs or References (as needed):
- Cross Reference Version of RDP application installed from Customer to
https://install.appcenter.ms/orgs/rdmacios-k2vy/apps/microsoft-remote-desktop-for-mac/distribution_groups/all-users-of-microsoft-remote-desktop-for-mac
or https://docs.microsoft.com/en-us/windows-server/remote/remote-desktop-services/clients/mac-whatsnew
for version information and related bug fixes.