TruGrid Connector for Windows PC is Summit's latest way to log into your server. With its built-in, optional Multi-Factor Authentication and ability to access your server from an application as well as a web portal, it offers better security and even easier access wherever and whenever you need it.
If you will be utilizing Multi-factor Authentication, the following steps will guide you through the setup process of the TruGrid Connector for Windows PCs. If you are not utilizing the added security that Multi-Factor Authentication (MFA) provides, please check out our TruGrid Basic Setup Guide for Windows PC to complete your setup process.
Note: You must have a Windows computer with an up-to-date Operating System, a smartphone, and Internet access to complete these steps.
Section One: Download and install the TruGrid Windows Connector
On your Windows computer, download the TruGrid Windows Connector from https://www.trugrid.com/downloads/winconnector. This will download a file named "TruGrid_Windows_Connector_Installer".
Once the download is complete, open the downloaded installer (check your downloads folder if you do not see it at the bottom of your browser), which will open the following popup window:
Click Install.
Section Two: Log into TruGrid
Enter your username into the window that opens (the username is your current Summit username with

@summithosting.com

at the end)
Enter your server password and click continue.
Section Three: Install TruGrid Authenticator on your Smartphone
From your smartphone, go to the App Store or Google Play Store and search for TruGrid Authenticator.
Follow the instructions to install TruGrid Authenticator.
Return to your Windows computer and click NEXT.
Section Four: Setup Multi-factor Authentication (MFA)
Below are steps to set up Multi-Factor Authentication with a smartphone application. You can also use your Email Address or SMS messaging to authenticate once set up.
From your Smart Phone, open the TruGrid Authenticator
Click the + sign at the top right corner of the TruGrid Authenticator app. This will open your phone camera. Accept any prompt from your phone to allow TruGrid to use your camera to scan MFA setup QR code
Use your Smart Phone to scan the QR code displayed on your computer.
From the TruGrid Authenticator app on your Smart Phone, click Allow. This will add a six-digit security code to the display on your computer and advance it to the next screen.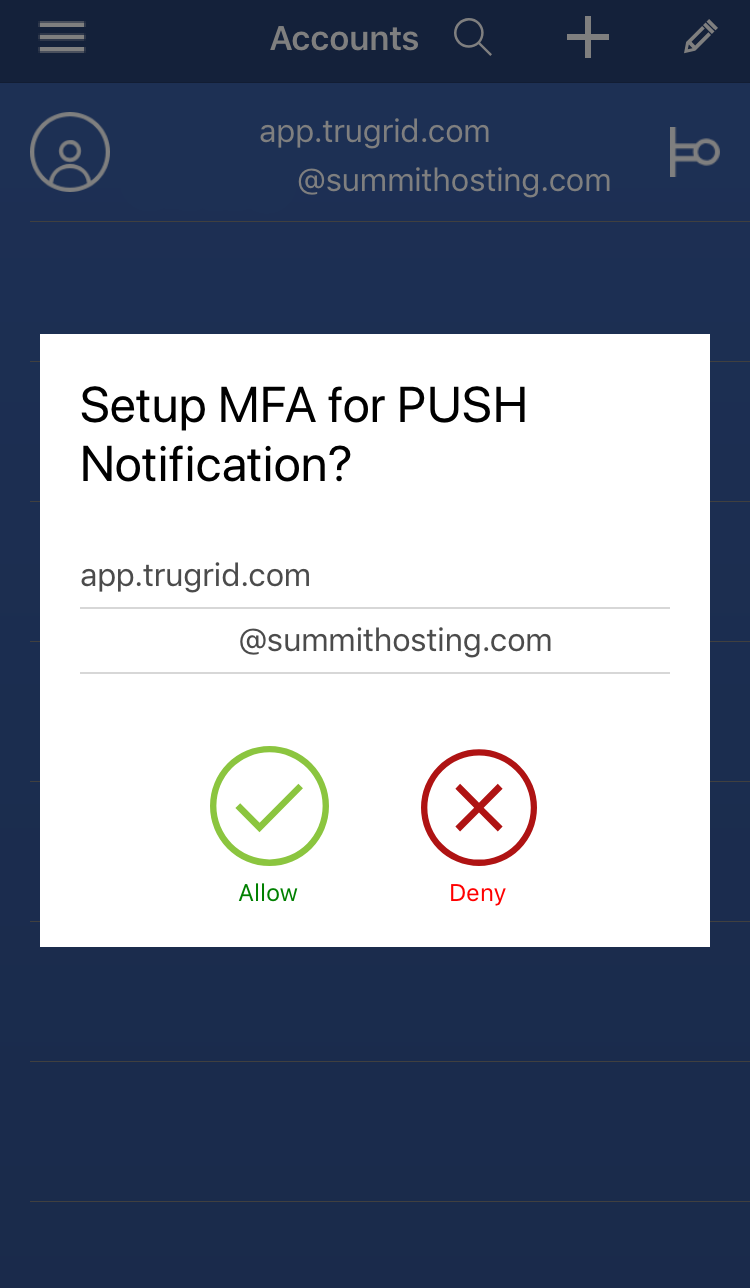 *If this does not happen, please manually type the six-digit code and click NEXT on your computer.
Section Five: Validate your phone. This allows you to reset your MFA in the future.
Enter your mobile phone number in the area specified on the computer and click Send Code
Obtain the code from your mobile phone and enter it in the area specified on your computer
Click Submit and Login
Section Six: Connect to your assigned desktop.
Click on the Connect button to the right of the server you want to access.
*The next time you need to connect to your remote desktop, open the TruGrid Windows Connector application and log in with your password and MFA in order to connect.
Section Seven: What to expect the first time you log in:
The next two screens will only be presented the first time you log in using TruGrid. Every subsequent login thereafter will not present the following pop-ups.
Read the End-User License Agreement for the TruGrid Connector software and click I Agree to proceed with the connection to your desktop.
Windows Defender Firewall:

Most users will be asked to approve the connection through the Windows Defender Firewall (or Windows Firewall, depending on the Windows version). Be sure both "network boxes" are checked, then click Allow access.
Section Eight: Begin your Remote Desktop Connection
Check the box for Don't ask me again… and then click Connect to finalize the connection to your desktop.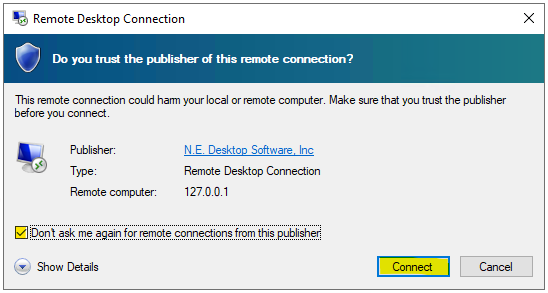 *Additional Optional Steps: Configure RDP Settings for better display results, folder or printer redirection, and more when logging into your server.
To configure Settings, click the drop-down menu on the top right corner of the TruGrid Windows Connector, then click Settings from the drop-down menu.
Configure your preferred Settings and click Save when done.
FAQ's and Related Articles:

How do I move my data from my computer to my server?
How do I locate my company file the first time I open QuickBooks?
How do I locate my company file the first time I open Sage?
How do I set up my printers to work from the server?
How do I adjust my screen resolution?
How To Whitelist TruGrid Outbound Traffic On The Local Firewall